Go Cubs Go!
Join Date: Aug 2008
Posts: 8,567
Thanks: 900
Thanked 3,397 Times in 1,469 Posts
Little 500: The World's Greatest College Weekend
---
This weekend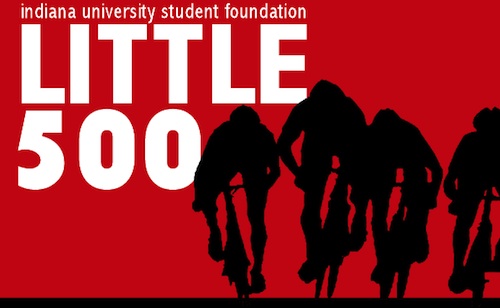 The greatest weekends I will never remember.
I'm fairly certain I never made it to the race.
I think the closest was using a nearby Port-O-Let and some jokers trying to tip it over with me in it.
One year, I recall falling out of a girl's top bunk.
Another year, on stage, croaking out "Lola" with a band at a GINORMOUS frat party. El-Oh-El-Ay LO-LAAAAAAA
http://crasstalk.com/2012/04/indiana...llege-weekend/
Quote:
First off, letís get something straight: the Little 500 (or Little 5) isnít just a bicycle race. Little 5 itself may be a bicycle race, but Little 5 has become a weeklong celebration of the arrival of spring and the last big party before Finals and the end of the school year.
Little 5 isnít so much a weeklong party, as it is a bacchanalian celebration of everything college. Alcohol is consumed in copious quantities from dawn to dusk and beyond. Hook ups are frequent, and frequently drunk. The parties are bigger. The concerts are better (DMX once performed on my houseís front lawn and started a riot. Ludacris, Lilí Wayne, Nicki Minaj, DJ Tiesto, Afrojack, Gucci Mane, The Flaming Lips, Feist, Red Hot Chili Peppers, Foo Fighters, Nelly, O.A.R., Yellowcard, Three 6 Mafia, Flight of the Conchords, John Mellencamp, No Doubt, Smashing Pumpkins, and the Jackson 5 have all played Little 5). And the energy is infectious, as an event fueled almost entirely by the mass consumption of alcohol by college students should be.
http://kentsterling.com/2013/04/19/l...ekend-endures/
Quote:
Our choice was to hide the party in plain sight. We walked through the gate each year with gallon jugs filled with screwdrivers Ė dozens of them. We shared their contents liberally and hosted our own party in the northwest bleachers. What qualified as hilarity for us ensued, and before we knew it the race was over. Who won? In our minds. we did.

We yelled impossibly vulgar things at the blue blazer clad members of the IU Student Foundation Steering Committee who walked in front of our area like super-officious junior republicans.
http://www.urbandictionary.com/defin...m=little%20500
Quote:
the greatest college week of all time. Where a campus of 40,000+ students celebrate a seemingly ordinary bike race by engaging in a week of mind blowing, wasted beyond your wildest dreams, non stop parties. Where class shuts down and drunken students stumble from bar to bar, frat to frat, street to street, drinking everything in sight and no amount of alcohol poisoning can stop them. Where it is more than acceptable to start drinking the moment you awake and SlipNslides, mud wrestling,Beer Pong, Rap concerts, and power hours are a daily occurence. the Greatest College Week in America.
__________________
"Assume the position." Greg Niedermeyer

The Dude abides. I don't know about you but I take comfort in that. It's good knowin' he's out there. The Dude. Takin' 'er easy for all us sinners.